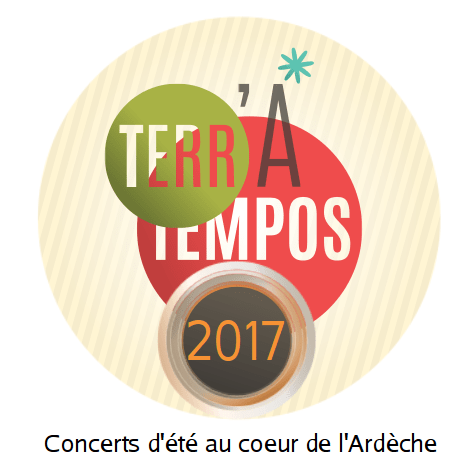 QUALITY CONCERTS AT THE HEART OF ARDÈCHE
Artists, places, territory and you dear public to live together this desire of culture and exchange.
The project 2017 of the Festival Terr' A Tempos is the continuity of a partnership committed with the association of local authorities the Rhône Crussol since 2008 and which suggests today spreading this action towards the other communities of the center Ardèche A summer season of about ten concerts is born with this second edition of Terr' A Tempos today.
Share with the inhabitants and the summer vacationers of high-quality moments around the musics of the world in the conviviality and the sweetness of the summer.
The culture gathers and participates in the attractiveness of a territory.
It generates an economic and human dynamics.
In a society in lack of mark, it is necessary more than ever.
LEÏLA HUISSOUD & ANASTASIA
Song at  Thursday 6 July, 21h

Cour de l'ancienne école, JAUNAC

LISTEN ANASTASIA
LOCALIZE JAUNAC
FACEBOOK
NES
World musics and voices at  Wednesday 12 July, 21h

Théâtre de verdure, SAINT-ROMAIN-DE-LERPS

LISTEN NES
LOCALIZE SAINT-ROMAIN-DE-LERPS
MARIAN BADOÏ TRIO
Gypsy music at  Tuesday 18 July, 21h

Centre médiéval, DESAIGNES

LISTEN MARIAN BADOÏ
LOCALIZE DESAIGNES
FACEBOOK
SAODAJ'
Maloya Nomad at  Thursday 20 July, 21h

Place du Château, BOFFRES

LISTEN SAODAJ'
LOCALIZE BOFFRES
FACEBOOK
RADIO TUTTI feat BARILLA SISTERS
Psychelectric tarentella at  Wednesday 26 July, 21h

Village, LACHAPELLE-SOUS-CHANÉAC

LISTEN RADIO TUTTI feat BARILLA SISTERS
LOCALIZE LACHAPELLE-SOUS-CHANÉAC
FACEBOOK
RADIO TUTTI feat BARILLA SISTERS
Psychelectric tarentella at  Thursday 27 July, 21h

Théâtre de verdure, CHAMPIS

LISTEN RADIO TUTTI feat BARILLA SISTERS
LOCALIZE CHAMPIS
FACEBOOK
[fb_plugin video href=https://www.facebook.com/radiotutti/videos/229368660794846/]
The TWO
Metis Blues at  Sunday 30 July, 21h

Centre Médiéval, DESAIGNES

LISTEN The TWO
LOCALIZE DESAIGNES
FACEBOOK
ZIIA AND THE SWING MATES
Swing at  Tuesday 1 August, 21h

Village, SAINT-JEURE-D'ANDAURE

LISTEN ZIIA AND THE SWING MATES
LOCALIZE SAINT-JEURE-D'ANDAURE
NILAMAYE
Colombian Cumbia at  Thursday 3 August, 21h

Village, ALBOUSSIÈRE

LISTEN NIMALAYE
LOCALIZE ALBOUSSIÈRE
FACEBOOK
EZZA
Tuareg music at  Thursday 10 August, 21h

Village, SAINT-SYLVESTRE

LISTEN EZZA
LOCALIZE SAINT-SYLVESTRE
FACEBOOK
EZZA
Tuareg music at  Friday 11 August, 21h

Village, PRANLES

LISTEN EZZA
LOCALIZE PRANLES
FACEBOOK
COCANHA
Occitan Polyphonies at  Thursday 17 Août, 21h

Village, SAINT-GEORGES-LES-BAINS

LISTEN COCANHA
LOCALIZE SAINT-GEORGES-LES-BAINS
FACEBOOK