Availability 2017/2018.

Marian Badoï played at " Jazz in Vienne festival " in july 2016, one of most famous French jazz festival's.
The music knows sometimes how to surprise us, "to pick" us, to move us until the inmost depths: Marian Badoï, sublime gypsy accordionist, exceptionally genuis musician, makes arise under his fingers the magic of one of the most beautiful musics of the World!
He trains the Marian Badoi Trio with Olivier Kikteff and Tanguy Blum, respectively, guitarist and upright bassist of " Les Doigts de l'Homme ".
The project marries the Gipsy Jazz with the gypsy authenticity brought by Marian and its beautiful improvisations: exceptionally genuis musicians in the service of a strong and original project.

Tour
There are no upcoming events at this time.
Discography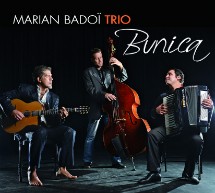 Bunica 2014 – 10 titles
► Buy an album on Label-Shop ◄
Follow news
Contact
Yves Colomb
+33 (0)6 86 72 62 07
yves@lamastrock.com