Availability: Season 2017/2018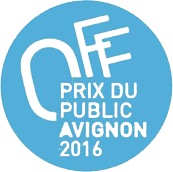 Double danse live music.
Double – Nono Battesti Audienze Price Danse Off Avignon
From 7 to 30 juillet 2016 Theatre Golovine.
In a show combining dance and live music, "Double" presents the audience with an explosive display of emotions and surprises.
Double is about poetry, about a delicate sense of shame but, more importantly, about freedom. The project came into being out of the desire to bring together different styles, characters and disciplines. On stage – to the backdrop of a mysterious forest, in a place where the light plays with souls – each one reveals his own form of expression: the dancers theatrically present love and despair, the singer interprets rhythm with body movements and the musician lets the power of dance guide him.
The extremely talented artist, dancer and choreographer, Nono Battesti, leads the audience into his own world with great sensitivity and expressiveness – surrounded by a variety of artists. In Double, Nono Battesti dances with Juliette Comant. The musical accompaniment provided by Quentin Halloy moves between acoustic melodies and drum computer. The vocalist Dyna B – Géraldine Battesti, the sister of Nono Battesti – with her deep, intoxicating voice, adds an intensity to the scene.
Nono Battesti, choreography, dance
Dyna B, vocals, dance
Juliette Colmant, dance
Quentin Halloy, guitar, drums
Benjamin Struelens lighting, photography
Cédric Alen sound
Olivier Battesti scenography
« A very strong expression for this great quartet. This show obtained The Price of the public Danse Off Avignon. TO SEE ABSOLUTELY for every family public. » CEZAM PROVENCEMED august 2016.
Photo credit Benjamin Strulens.
Tour
25.11.2018

at Auditorium – Le Thor (84)

Partagez !FacebookGoogle+Twitteremail

08.02.2019

at L'Odyssée – Eybens (38)

Partagez !FacebookGoogle+Twitteremail

09.02.2019

at Théâtre Grenette – Belleville (69)

Partagez !FacebookGoogle+Twitteremail

15.03.2019

at Théâtre des Miroirs – La Glacerie (50)

Partagez !FacebookGoogle+Twitteremail

16.03.2019

at Le Cube – Douvres La Délivrande (14)

Partagez !FacebookGoogle+Twitteremail
All dates for this group »
News
[efb_likebox fanpage_url="https://www.facebook.com/spectacledouble" fb_appid="" box_width="350″ box_height="600″ responsive="1″ show_faces="0″ show_stream="1″ hide_cover="1″ small_header="1″ hide_cta="1″ locale="en_EN"]