Olivier KIKTEFF – lead guitar
Yannick ALCOCER – rhythm guitar
Benoît CONVERT – rhythm guitar
Tanguy BLUM – upright bass
Nazim ALIOUCHE – percussion"Dans le Monde" (In the World). The title chosen for their first album – thirteen years ago, already showed the personality of the band "Les Doigts de l'Homme." Since then, they have never deviated from this line of conduct. Being full-fledged musicians without blinkers, open to all currents, which have managed to build a clean sound universe where swing takes place with certain lightness.This marriage of the opening in the inspiration and the requirement in the interpretation is the hallmark of Olivier Kikteff, the band leader. A self-taught musician found of acoustic and electric guitar, with an original career, who did his first professional experiences in Burkina Faso (alongside the national star Bilaka Kora) before participating, once back in France, in Celtic trainings.
Videos
Tour
Date
City
Venue
Country
Tournée: Artistes Lamastrock
01/06/17
TOULOUSE (31)
Salle Nougaro
France

Time:

20:30.
03/06/17
VILLEFRANCHE DE ROUERGUE – 12
Théâtre Municipal
France

Time:

20:30.
09/07/17
PARC DU CHÂTEAU DE FONTAINBLEAU -77
Festival Django Reinhardt
France

Time:

17:30. Buy Tickets
05/08/17
AGRIGENTO
Valle dei Templi
Italy

Time:

20:30.
13/08/17
MARCIAC (82)
Jazz in Marciac – l'Astrada
France

Time:

23:00. Buy Tickets
15/08/17
MOLLANS – 26
Festival Parfum de Jazz
France

Time:

20:30.
12/10/17
ST GENY POUILLY – 01
Théâtre du Bordeau
France

Time:

20:30.
13/10/17
BONNEVILLE – 74
Sc'art à B
France

Time:

20:30.
14/10/17
CROLLES – 38
Espace Paul Jargot
France

Time:

20:30.
24/11/17
SAINT ETIENNE (42)
Le Fil
France

Time:

20:30.

Forum Jazz(s)RA

25/11/17
VILLEURBANNE – 69
Espace Tonkin
France

Time:

20:30.

Festival Les Guitares

26/11/17
NEVERS – 58
Le Café Charbon
France

Time:

20:30.
Sur le web
News
Discography:
/2013/
Mumbo Jumbo
LP Lamastrock/ L'Autre Distribution
/2011/
1910
North America release/ Alma Records
/2010/
1910
LP Cristal Records / Harmonia Mundi
/2008/
Les Doigts dans la prise
LP Cristal Records / Abeille Musique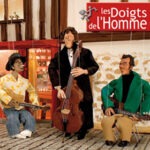 /2005/
Les Doigts de l'Homme
LP Lamastrock / Productions Spéciales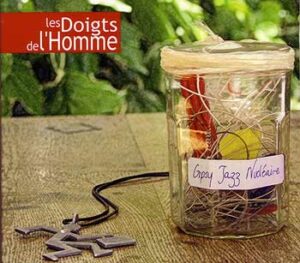 /2004/
Gipsy jazz nucléaire
5 traks LP-self-producted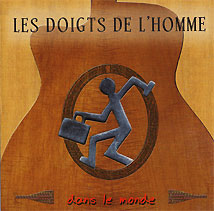 /2003/
Dans le monde
Drop studio/coop breizh – LP